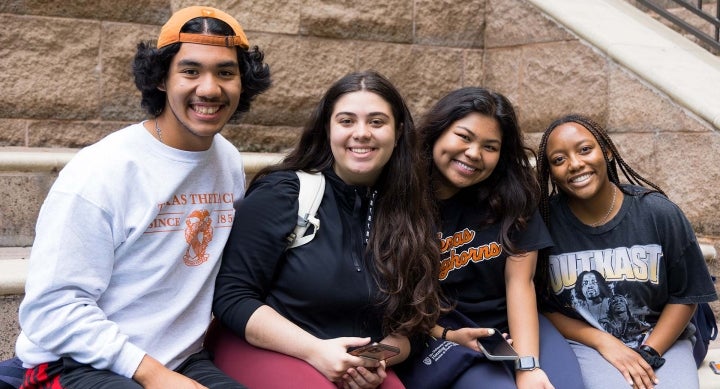 Navigating a campus home to thousands of people can be challenging, especially when they use words you've never heard before. To help you sound like a seasoned resident before you even arrive, we've compiled a guide to the UHD-specific terms and phrases we use on the Forty Acres.
Bevo Pay
Bevo Pay is a cashless form of payment that allows students to purchase food, goods and services with their UT ID card.
BRP
Brackenridge, Roberts and Prather housing complex, a group of three residence halls tucked away between Jester Center and San Jacinto Hall on the south side of campus.  
CC/ACC
Shorthand for complex coordinators and assistant complex coordinators, who live in the halls and are there to support residents 24/7.
Dine In Dollars
Dine In Dollars, like Bevo Pay, are loaded to the UT ID cards of residents with meal plans to be used at University Housing and Dining locations only.
eProxy
Someone who has obtained a UT EID and has been granted the authority to access another person's electronic records at UT. They can add funds to Dine In Dollars or Bevo Pay accounts, view and pay housing bills, and view Dine In Dollars balance and transactions, among other things.
FAST Line
Shorthand for the Fresh and Simple Tastes Line, a buffet line within J2 Dining that serves dishes free of gluten and the top nine allergens: peanuts, tree nuts, fish, shellfish, milk, eggs, soy, wheat and sesame.
Forty Acres
This nickname refers to the size of the university's original footprint – an area of forty acres surrounding the Tower, framed by 24th, Speedway, 21st and Guadalupe Streets.
HornsLink
An online hub where you can discover and register for events, organizations and other community-building activities happening on campus or in your area.
JCL
Shorthand for Jester City Limits, a dining hall on the ground floor of Jester Center with an array of food lines for versatile eating.
LPC
Shorthand for Littlefield Patio Cafe, a restaurant that offers bistro-style dining, grab and go food and coffee options on the northwest side of campus, adjacent to Littlefield Hall.
Mooov-In
Our annual check-in event for students moving to campus and 2400 Nueces.
NYCU
Shorthand for News You Can Use, a monthly newsletter that hits your inbox the first Monday of each month. NYCU is your essential resource for upcoming events, important dates and announcements, job opportunities and Bevo Pay information.
The Quad
A cozy courtyard on the north side of campus surrounded by the four residence halls comprising our Honors Housing community – Andrews, Blanton, Carothers and Littlefield.
RA
Shorthand for resident assistant, students who are employed part-time to assist residents and facilitate community building in the halls.
S.T.E.E.R.
Strategies That Educate and Engage Residents is our comprehensive learning curriculum geared toward helping residents develop personally, socially and professionally.
UHD
Shorthand for our department, University Housing and Dining.
UT Farm Stand
Our student-run program that offers numerous ways to learn about sustainability through markets, campus gardens and zero-waste programs.
WCP
Shorthand for the William C. Powers Student Activity Center, the student union building next to Gregory Gym that houses some of our dining locations.
For terminology on the Forty Acres, see UT lingo.