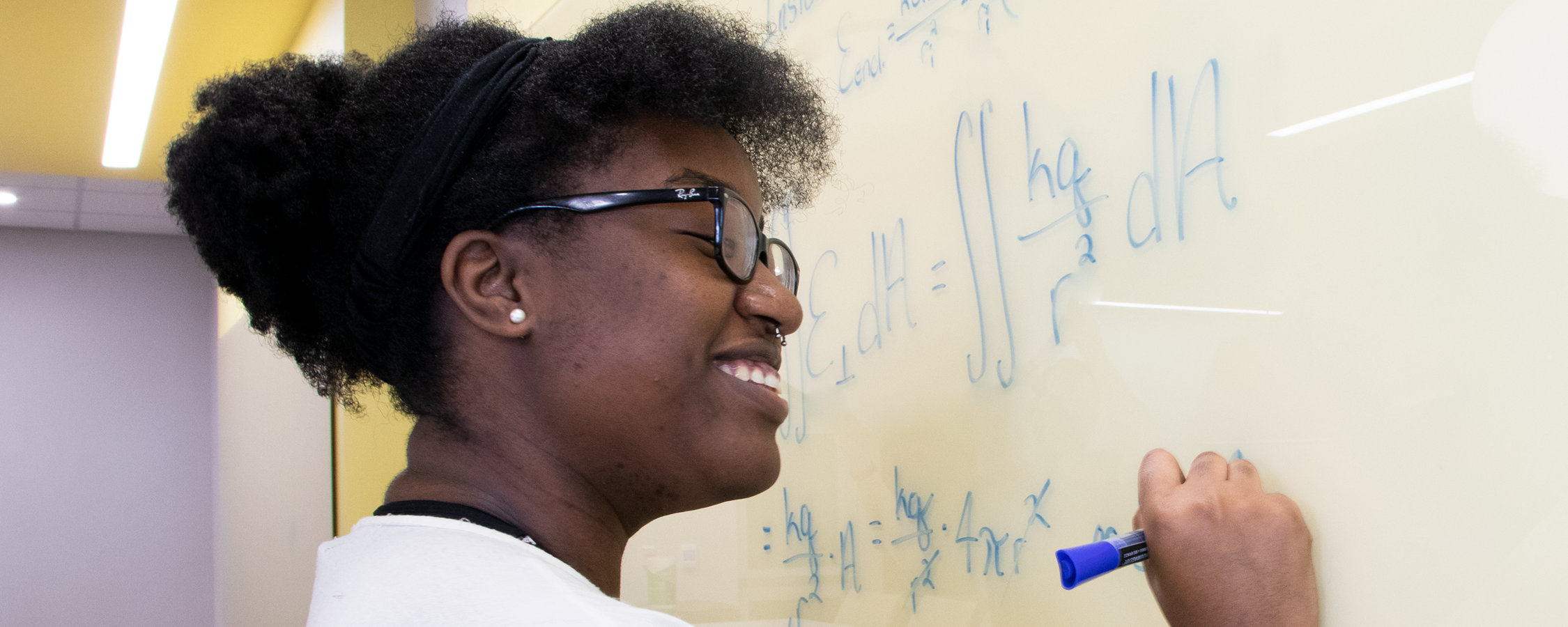 Learn and discover outside the classroom with dynamic opportunities offered to residents living in our halls. Whether building future workplace competencies through the residential curriculum or participating in activities and programs with faculty through Faculty Connections, when you live here you truly have access to more.
Learning Opportunities
S.T.E.E.R. (Strategies That Educate and Engage our Residents)

University Housing and Dining employs a residential curriculum that places emphasis on student learning and shapes the overall student experience. The program, known as S.T.E.E.R. (Strategies That Educate and Engage Residents), is tied to the university's mission, culture and purpose. The comprehensive learning curriculum is geared toward helping residents develop personally, socially and professionally.

S.T.E.E.R. encompasses three learning goals:
1.    Use appropriate self-management strategies
2.    Engage in community
3.    Demonstrate cultural competency

By achieving these goals, residents become responsible and culturally competent community members by learning to manage their academic, financial and interpersonal affairs. Residents are also given the tools they need to build and maintain positive relationships, and recognize their contributions and impact on their community as a whole. They gain the valuable skills of being open-minded and flexible with the ultimate goal of having a positive impact on others and society.

In today's global world the S.T.E.E.R. curriculum provides students with applicable competencies for the workplace and their future. 
LC3 (Longhorns for a Culturally Competent Campus)

Longhorns for a Culturally Competent Campus (LC3) is a free, 10-week workshop series designed to help students improve their cultural competency and interpersonal interaction skills. After participating in LC3, students will be better able to:

 • Foster cultural self-efficacy
 • Enhance cultural awareness
 • Develop contextual cultural communication skills
 • Strengthen self-regulation

LC3 is offered during the fall and spring semesters to UT students.
LC4 (Longhorns for a Culturally Competent Campus Club)

The Longhorns for a Culturally Competent Campus Club (LC4) is the student organization made up of the LC3 experience. The purpose of this organization is to:

 • Mentor and support students currently in University Housing and Dining's Longhorns for a Culturally Competent Campus (LC3) program
 • Promote interest in the LC3 program
 • Help students on UT Austin campus better communicate through intercultural differences

Each semester, LC4 hosts a series of programs and events that promote developing cultural competency and learning to communicate across differences.
The Horns Are Home Podcast

The Horns Are Home Podcast is your resource for all things relevant to the student experience on the Forty Acres. This podcast covers a little bit of everything, connecting you with the advice and stories of the students, staff and faculty who call UT home. Curious about how to navigate class registration? Or how to find the right student organization to join? Learn about these topics and more on this podcast dedicated to making you feel at home on the Forty Acres.

Find the podcast at the following sites:
Faculty Connections – Student Information

Through Faculty Connections, residents in university-owned housing can connect with faculty outside the classroom by participating in on- and off-campus programs and activities. These opportunities will be shared through News You Can Use, the homepage events section, emails, RA announcements and more.



 
Faculty Connections – Faculty Information

Faculty Connections provides intentional, informal opportunities for faculty and students in university-owned housing to connect outside the classroom by participating in programs and activities related to their hobbies, academic focus or college affiliation. Some examples of these engagements include academic and social programming on campus, off-campus community excursions, and facilitating trainings and workshops. The time commitment and frequency of interactions is based on the faculty members' availability throughout the academic year.

With these connections, the aim is for students to feel more comfortable engaging with faculty and create a sense of belonging within their residential community and beyond. Faculty will help students explore new ideas and develop personal, professional, or academic goals and plans through positive relationships. Students will be able to identify and become more knowledgeable about various academic disciplines through these interactions.

If you are interested in participating, please complete the interest form.

If you would like to recommend another faculty member, you can do so through the recommendation form.

If you have additional questions, please email the program manager.

As a thank you for participating, we offer rewards based on the number of interactions:

Interaction: 1 – 2 interactions per academic year

$25 card redeemable at UHD-operated dining locations

Connection: 3 – 4 interactions per academic year

$50 card redeemable at UHD-operated dining locations
Faculty Connections merchandise
Letter of recognition to dean/department chair

Mentor: 4 or more interactions per academic year

$100 card redeemable at UHD-operated dining locations
Faculty Connections merchandise
Letter of recognition to dean/department chair
Feature on UHD website