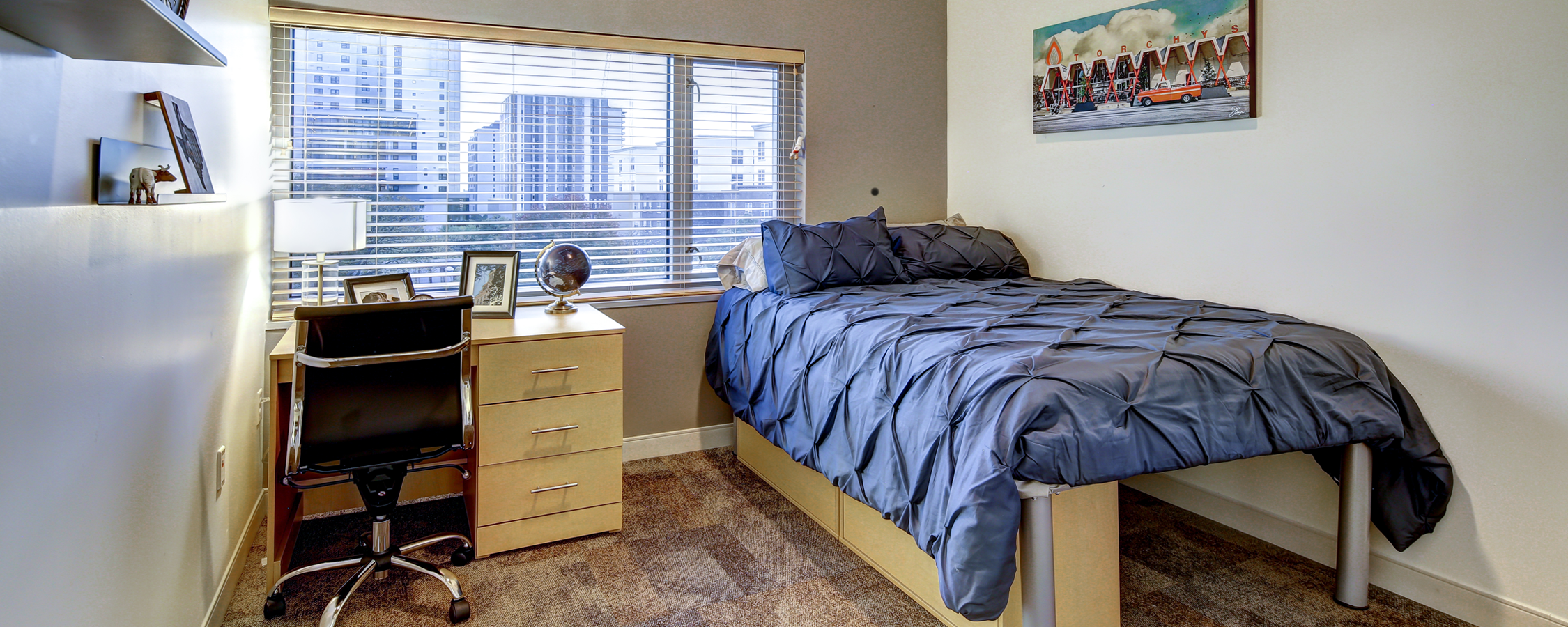 Familiarize yourself with the 2400 Nueces Mooov-In process using this comprehensive guide. Starting July 1, new and returning residents can begin scheduling check-in times in their housing portal to move into 2400 Nueces. Fall 2022 check-in for 2400 Nueces begins at 10 a.m. on Saturday, Aug. 13, with check-in timeslots available through Sunday, Aug. 21 at 5 p.m. Overnight check-in timeslots are also available to students who prefer to check in outside of peak hours.
If you have questions, contact our housing team via email or the 2400 Nueces front desk at 512-232-7517.
Pre-Arrival Checklist
Ensure a smooth Mooov-In by completing these essential tasks prior to arrival at 2400 Nueces.
FAQs
Announcements
What communication has University Housing and Dining sent to incoming 2400 Nueces residents?

Important communications sent to incoming 2400 Nueces residents will be linked here.
Check-In Details
When can I move in to 2400 Nueces?

Once the Mooov-In scheduler opens in the housing portal on Friday, July 1, students can sign up for one of three check-in timeslots:

Primary check-in

When: Saturday, Aug. 13 – Sunday, Aug. 14 from 10 a.m. – 5 p.m. each day
Where: San Antonio Garage

Extended check-in

When: Monday, Aug. 15 – Sunday, Aug. 21 from 10 a.m. – 10 p.m. each day
Where: 2400 Nueces front desk

Overnight check-in

When: Saturday, Aug. 13 – Sunday, Aug. 21 from 10 p.m. – 8 a.m. each day
Where: 2400 Nueces front desk

At their check-in time, students will first go to their designated check-in location to activate building access through their UT ID card before moving belongings into 2400 Nueces. Students checking in during primary check in (Aug. 13 – 14) will also be given a QR code for two hours of parking validation to San Antonio Garage. It is important to arrive at the assigned check-in time to help limit the amount of traffic within the building and provide everyone with a smooth experience.

Note: Check-in is not permitted between 8 – 10 a.m. during Mooov-In.
Can I move in before early check-in begins?

No. The earliest students can check in for the fall semester is 10 a.m. (CDT) on Saturday, Aug. 13. Staff will not be able to assist you if you try to move in prior to this time.
Can I move in after 2400 Nueces check-in ends?

If students need to move in after 10 p.m. on Sunday, Aug. 21 they can notify us in advance to avoid having their contract cancelled. Students can do this online in their housing portal.
Where do I check in?

The check-in location will depend on the scheduled arrival time and date.

Saturday and Sunday, Aug. 13 – 14, 10 a.m. – 5 p.m., San Antonio Garage, first floor
All other dates and times, 2400 Nueces front desk

Note: After you accept your key, you cannot be released from your contract. Refer to the 2022-23 Contract Terms and Conditions for 9-month contracts and 12-month contracts for further information.
What should I bring to check in?

Students will need to present their UT ID card to gain building access. Students without UT ID cards will be issued a temporary ID card for 72 hours. They can request a new UT ID online or in person at the ID Center located in the Flawn Academic Center.
Where should I park?

San Antonio Garage, located at 2420 San Antonio Street directly across from 2400 Nueces. Students checking in on Saturday and Sunday, Aug. 13 - 14 will be given a QR code at check-in for two hours of parking validation that can be used upon exiting the garage. Students checking in after Sunday, Aug. 14 will not be provided a parking pass.
What if I'm running late?

If a traffic jam or unexpected delay causes you to be a few minutes late, don't worry – you do not need to notify us. Relax and drive safely. However, if you are running hours (or a day) late, please email our housing office.
How many people should I bring to Mooov-In?

We recommend bringing only the guests you need to help you move in to keep the building from being too crowded. When students check in, we kindly ask guests to stay in the 2400 Nueces lobby area (if the student is checking in at the front desk) or in their vehicle (if the student is checking in at San Antonio Garage) to limit the number of people waiting in line.
Should I bring a dolly or rolling cart?

Yes, if you are able. There will be a limited number of dollies and carts available to check out for a short period of time.
During overnight check-in, is there a time where I can't move my belongings into my room?

No, but out of courtesy for other residents already in the building, we ask that from 10 p.m. – 8 a.m. students move only what is necessary to their room to reduce noise during sleeping hours.
What should I bring with me to live in 2400 Nueces?

Check out our what to bring page.
How do I cancel my housing contract?

If students need to cancel their housing contract, there is a $300 cancellation fee if they cancel on or before April 1. Students canceling their housing contracts after April 1 will receive a $500 cancellation fee. After May 1, the cancellation penalty will be $1,000. If the student paid a $300 prepayment, this will be applied to their applicable cancellation penalty and the student would be responsible for the remaining balance. If the prepayment was deferred during the contract process, students will see the full balance owed for the cancellation fee. Students must email the housing team to cancel.
After Mooov-In
Can I change my room assignment after July 31?

If a student decides they want to change rooms after July 31, they need to take the following steps:

Fill out a room change request on their My Housing page. Students are able to indicate hall and roommate preferences for their room change.
If the request is approved, it will be forwarded to Occupancy Management where it will be handled based on housing application date order. If the request has been labeled as an urgent need, Occupancy Management will attempt to make the room change as soon as possible.
When a vacancy is available, the student is notified. Some room changes are able to happen within the week of them being requested. Others may take all semester. It depends on the availability of the hall and room type that the student is requesting.
If two students want to do a mutual room swap (where they trade places with each other), they still go through the first two steps above.

 
When does the commuter meal plan start?

2400 Nueces residents who have signed up for one of our commuter meal plans can start using their meal plan on Monday, Aug. 15 at our dining locations currently open on campus: Cypress Bend Cafe, Littlefield Patio Cafe and J2 Dining. Visit the individual pages of our other dining locations to view their opening dates and hours of operation. On Monday, Aug. 22, our homepage tracker will be viewable at the bottom our homepage, displaying hours of operation across our dining locations.