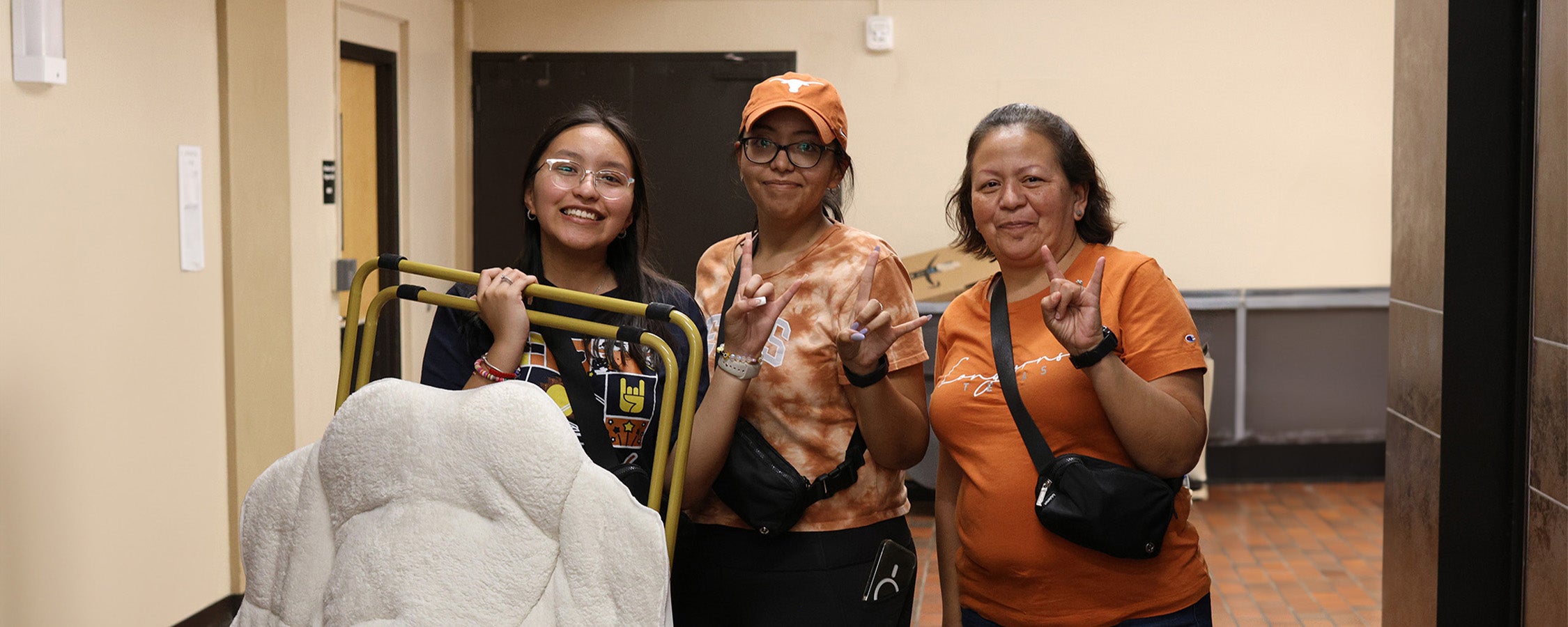 Prepare for the residence hall fall departure process by reading up on essential tasks and dates. These checkout details are for the 2023-24 academic year. Whether you're returning in the spring or moving out permanently, please note that the fall departure resident checklist must be completed prior to your departure. Residents who wish to remain on campus during winter break must fill out a Winter Break Housing contract in the housing portal.
Residents who plan to return in the spring do not need to apply for a spring-only housing contract, as their contract already extends through the end of the spring term.
The residence halls close on Tuesday, Dec. 12, 2023 at 9 a.m. They reopen on Friday, Jan. 12, 2024 at 9 a.m.
Departure Process Task List
Tasks for All Residents
Complete the fall departure resident checklist

All residents are required to complete the essential tasks checklist prior to their departure from the residence halls.
Defrost your room's microfridge

Follow our defrosting and cleaning instructions to prepare your microfridge for your departure and avoid a $20 fine.
Take belongings out of your room

If you are a resident returning in the spring, make sure to take any essential belongings with you before departing campus. Once the residence halls close, you cannot return to your room until the residence halls reopen.

If you are resident not returning in the spring, pack up and move all of your belongings out of your room.
Attend your floor/wing meeting

Attend your floor/wing meeting for full details about closing procedures in your community (check with your RA for location, date and time).
Additional Tasks for Residents Not Returning in the Spring
Submit your release request form

Any resident interested in being released from their residence hall housing contract must obtain, complete and submit a release request form to housing@austin.utexas.edu. All fall term residents who want to be released from their housing contract's spring residency requirement – for reasons of graduation or otherwise – must submit this form by Nov. 15.
Adjust your bed to its original height

If you adjusted your bed's position yourself during the semester, you must return the bed to its original height to avoid a $75 charge. If maintenance adjusted your bed for you, you may leave your bed in its adjusted position when moving out. To return your bed to its original height, see our guides for adjusting junior loft or full loft beds.
Update your mailing address

To change your mailing address, log in to UT Direct, modify your address and then select "Update This Address." Please be sure to check your mailbox before departing campus; once residence halls close at 9 a.m. on closing day, you may no longer pick up mail from your hall. After closing day and for a period of 30 days, only first-class mail will be forwarded to your new address.

Also make sure to update your default address with external companies that may continue to ship mail to you (i.e., magazine subscriptions, Amazon packages, etc.).
Clean your room and bathroom

Departing your residence hall with your room and private bathroom (if applicable) left messy will incur respective fines. The cleaning fee for a messy room is $50 per person. The fee for a messy bathroom is $120, to be divided among room/suitemates. Damages or missing room items will cost the price of repair, replacement and/or labor.
Pick up a checkout envelope and return your keys

Pick up a checkout envelope from your 24-hour front desk. Return your room key in the envelope to the front desk staff by 9 a.m. on closing day. A $75 fine is incurred for lost keys or keys not returned by the closing day deadline.
Additional Details
Loading zone passes

1-hour loading zone passes or validation of garage parking (for select days) will be available at your 24-hour desk on Tuesday, Dec. 5*. A limited number of carts will be available for check out. Make your move easier by bringing your own cart.

*One pass or validation per resident.
24-hour quiet hours

24-hour quiet hours begin on Monday, Dec. 4 at 10 p.m. Please be respectful of others and contact the front desk or an RA if you need assistance addressing a noise concern. Failure to maintain an appropriate noise level may result in early removal from the residence hall.
Closing day

The residence halls close on Tuesday, Dec. 12, 2023 at 9 a.m. There will be a fee starting at $50 per hour if you do not vacate by 9 a.m.