Published:
August 17, 2023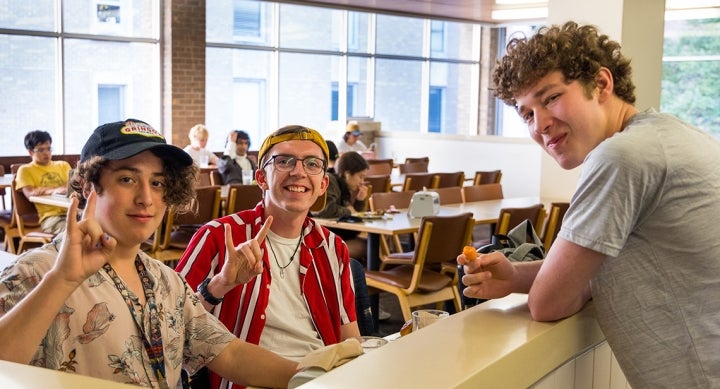 After moving boxes, rearranging furniture and walking to and from your car during Mooov-In, you're likely hungry for a great meal. Whether or not you're a current meal plan holder, this feature will guide you through the campus dining options available to you, so you'll know exactly where you can grab a great bite on the Forty Acres.
How to Dine as a Resident
#1: Review your meal plan (or purchase one)
If you live in an on-campus residence hall, your UT ID card comes loaded with your resident unlimited meal plan, which you can use as many times a day as you choose at our three buffet-style dining halls – Jester City Limits, J2 and Kins Dining. This plan is included in your housing rate and you get $200 Bevo Pay funds ($100 per term) and $600 Dine In Dollars ($300 per term), which you can think of as spending money loaded to your UT ID primarily for use at our wide range of dining locations. 
If you live at Dobie Twenty21 or 2400 Nueces, a meal plan is not part of your housing rate and you have the option to purchase one. Dobie Twenty21 residents can purchase a Dobie Twenty21 meal plan, while 2400 Nueces residents and students who live off-campus can select one of our commuter meal plans. All of these plans include Dine In Dollars; the amount differs depending on the type of plan you purchase. 
Unlimited plans must be purchased prior to the 12th class day in the fall or spring terms and are only active while the residence halls are open during the term of purchase. Limited plans (the Longhorn 25 and 60) can be purchased at any time and used whenever Jester City Limits, J2 or Kins Dining are open. 
#2: Enjoy variety at our dining halls
For unlimited meal plan holders, the most cost-effective place to eat deliciously -- during Mooov-In and throughout the fall and spring terms – is at any of our three dining halls. Visit Jester City Limits, J2 and Kins Dining as often as you wish with a simple swipe of your UT ID card. Campus guests, which includes your Mooov-In helpers, are welcome visitors to our dining halls and can gain entrance with cash or card payment to fuel up after moving in your belongings. 
Short overviews of each dining hall, including their locations, menus and hours of operation, can be found by visiting the following links: Jester City Limits, J2 and Kins Dining. 
#3: Explore other locations with Dine In Dollars
The Dine In Dollars amount allocated in our meal plans works like cash that can be used to purchase food and beverages at our restaurants, coffee shops, convenience stores and other locations. Dine In Dollars are especially useful if you are in a rush to grab a to-go meal before an org meeting, or if you need an extra caffeine boost before an early class. You can check your balance or add Dine in Dollars online. Be sure to spend them before they expire, which will be at the end of the term of purchase for Dobie Twenty21 and Longhorn unlimited meal plans and at the end of the spring 2024 term for resident unlimited meal plans. If you purchased a Longhorn 25 or 60 plan, Dine In Dollars roll over as long as your UT ID is active. 
#4: Go beyond the Forty Acres with Bevo Pay
Bevo Pay is a cashless form of payment that allows you to purchase food, goods and services at on and off campus merchants with your UT ID card. Resident unlimited meal plan holders receive $100 Bevo Pay funds each term; other meal plan holders and students will need to join the program to add and use funds. An active Bevo Pay account gives students buying power at dining locations on and off campus, markets, gas stations, vending machines, coffee shops, printing services and more. Unspent Bevo Pay funds remain accessible as long as students are currently enrolled at UT and are refundable at graduation.
#5: Take advantage of your hall's community kitchen
Want to bring the comfort of home-cooked meals to campus? Check out the community kitchen in your residence hall. Many residence halls provide a community kitchen equipped with stoves, ovens, microwaves, sinks and all that you need to prepare your favorite home-cooked meal. Visit your residence hall's designated front desk to find out how to use your community kitchen and check out cooking equipment.
#6: Learn more about our nutrition and wellness services
We believe that menu transparency is an important part of the dining experience, especially for those who follow a specific diet plan. Our online menu provides nutrition facts, ingredients and allergen information, and is especially helpful for students with special dietary concerns. Menu information can also be found in each dining location at the nutrition information centers or via our mobile friendly menu. Learn more about our nutrition and wellness team, resources and support for managing special dietary concerns.