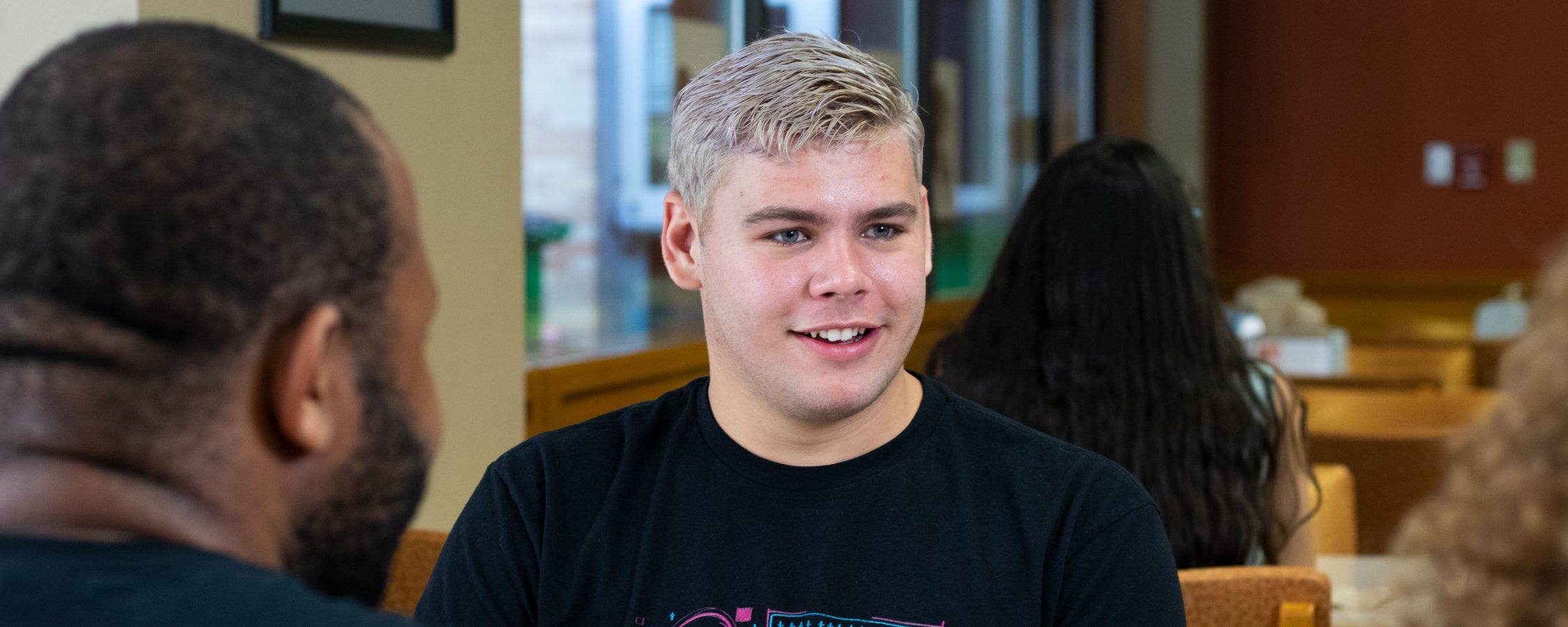 An unlimited meal plan is included with room and board fees for on-campus residents. Learn more about what the resident meal plan has to offer students who live in the on-campus residence halls.
Unlimited Meal Plan for 2023-24
​​​​Meal plan included with room and board fees for students living in the on-campus residence halls
Residents can use their unlimited meal plan as many times a day as they choose at the dining halls - J2, Jester City Limits and Kins Dining
Also included are $200 Bevo Pay funds ($100 per term) and $600 Dine In Dollars ($300 per term)
Dine In Dollars
Use your Dine In Dollars at our restaurants, coffee shops and convenience stores. See our list of locations. Use Dine In Dollars by handing your UT ID to the cashier, and the amount of the purchase will be deducted from your account. You can add Dine in Dollars at any time. Dine In Dollars roll over and expire at the end of the spring 2024 term.
Bevo Pay
Use Bevo Pay at University Housing and Dining locations and all of our participating merchants to purchase food, goods and services on or off campus. You can add more Bevo Pay funds to your account from the Bevo Pay Online Services page. Unused Bevo Pay funds roll over each academic year and are refundable upon graduation.
Account Balances
You can monitor your Dine In Dollars and Bevo Pay account balance and spending online. If you don't have enough Dine In Dollars to make a purchase, Bevo Pay will be used instead. When this happens, you will not be charged the discounted resident price at the dining halls. If you start to run low, Bevo Pay funds can be manually transferred to your Dine In Dollars account from your My Housing page.
Flex Meal Plan
An alternative to the unlimited meal plan is the Flex Meal Plan. Enrollment in this meal plan is only available upon request.
Optional meal plan that provides flexibility in where to spend dining money
Forfeit the Unlimited Meal Plan and pay an additional fee of $500 per term
Receive $1,750 Dine In Dollars and $100 Bevo Pay funds per term
Unspent Dine In Dollars expire at the end of the spring 2024 term
Bevo Pay funds roll over each academic year and are refundable upon graduation
For information about how to sign up for this meal plan, email our housing team