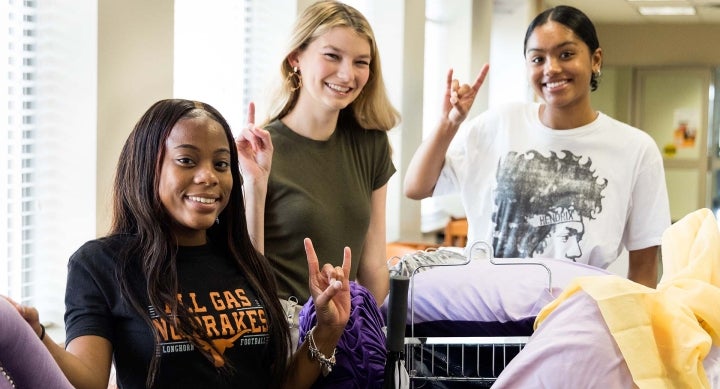 We can't wait to have you home on the Forty Acres, and we know you are counting down the days until mid-August. Packing for your move to campus can be overwhelming and we're here to help. While you may want to showcase your entire wardrobe to your fellow Longhorns, please consider the size of your living space when packing. For a better understanding of what your home here will look like, use the 3D tours located on individual residence halls, Dobie Twenty21 and 2400 Nueces pages.
Residence halls and Dobie Twenty21
Not sure where to start with your packing list? Every room has a desk, desk chair, dresser, bedframe, mattress, shelving and hanging space for each resident, combination microwave/refrigerator (MicroFridge), trash can, recycling bin, bulletin boards and window blinds. We encourage our residents to personalize their living space with things for their bulletin board, bed linens, photos and more to ensure it feels like home. Don't forget the type of bathroom you selected – community or connecting/private – as this will determine the items you should bring. Check out our What to Bring page for what to pack and leave at home.
2400 Nueces
Residents at 2400 Nueces have a slightly different packing list depending on whether they are living in an unfurnished or fully furnished apartment unit. All units include stainless steel appliances (refrigerator, oven, microwave and dishwasher), and private full-size washer and dryers. Before packing, explore the layouts of our apartments and their furnishings to see what's included in your specific unit. For more guidance on your packing, look at our What to Bring page.
Communicate with your roommate(s)
Before Mooov-In, we encourage residents to connect with their roommate(s) to figure out who is bringing what. Decide who will bring which commonly shared items like cleaning products, kitchen supplies, a TV, curtains, etc. to avoid any duplications.