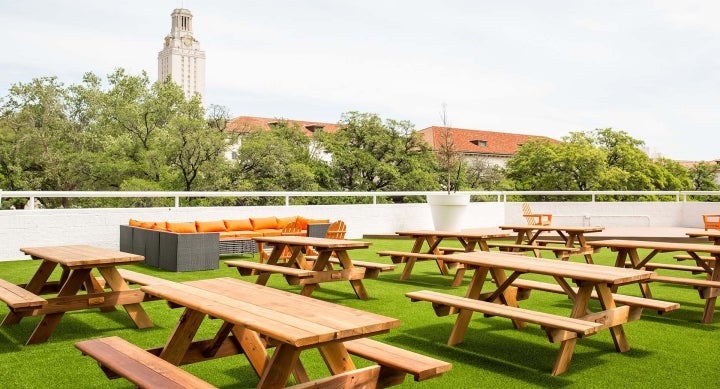 Good study spots can be hard to come by as finals approach – your regular studying place gets stale, everywhere you turn is too crowded and spaces usually free of distraction all but vanish. Indoors and outdoors, campus abounds with quiet, inviting spaces where students can still carve out a piece of solitude during the end of semester chaos. Avoid the library crowds and set yourself up for success this spring by checking out these off-the-beaten-path options for studying and relaxing.
Dobie Twenty21 Rooftop Lounge
On the plaza level above the mall at Dobie Twenty21 is a rooftop lounge, pictured above. This open-air space features picnic tables and outdoor couches on a turf surface. Although this space is next to Guadalupe Street, it's surprisingly quiet. Whenever there's good weather, the rooftop lounge is the perfect place to study, relax and enjoy your surroundings on the edge of the Forty Acres.
San Jacinto Hall Formal Lounge
Just past the lobby inside San Jacinto Hall is the formal lounge, a space open to residents and students across campus during the day (at night the lounge is only accessible to San Jacinto residents and their guests). The burnt orange walls, leather chairs and sofas, plethora of outlets and big tables lend themselves to working or studying in a welcoming environment. When the shutters are open, the formal lounge is flooded with natural light. This space is on the quieter side, but you may be serenaded by someone playing the grand piano.
Whitis Court Courtyard
This outdoor hidden gem is tucked between the Whitis Court residence halls. The six Whitis Court buildings surround a peaceful courtyard with multiple tables canopied by large trees that provide shade and a breeze. The courtyard is off the beaten path and offers a quiet, low-traffic space to study, relax and enjoy the outdoors.