Published:
September 14, 2022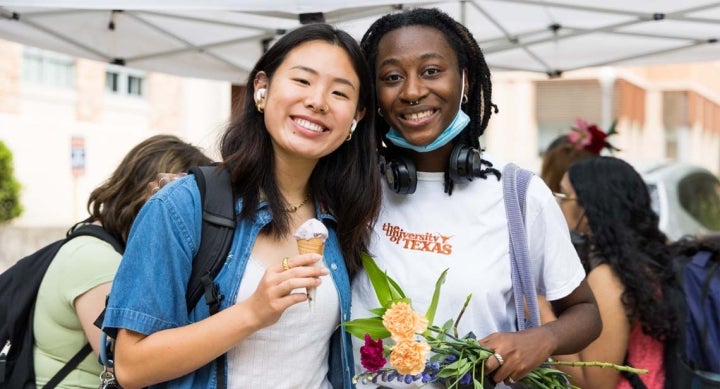 Make the most of your campus experience by exploring the upcoming events we have planned. Throughout the academic year, we host a number of programs and events for residents, our dining hall patrons and members of the campus community.
Types of Events
Campus Community Events
These events are free to all students and typically involve fun activities, entertainment, food, giveaways and more. In the coming weeks, you'll have the chance to play black light bingo, craft keepsakes, grab fresh produce at our on-campus farmer's market and get into the game day spirit at Littlefield Patio Cafe's new patio. Event times vary – and some events will recur -- so hopefully you can catch one that fits into your schedule!

Dining Hall Events
Our dining hall events take place throughout the fall and spring terms at J2 and Kins Dining, where you can expect theme nights, specialty cuisine and exclusive treats. Meal plan holders can access these events with a meal swipe and anyone without a meal plan can pay the entrance fee for the dining hall. Events you can look forward to include ATX Fest, birthday celebrations every second Thursday of the month and a hot cookie bar every Friday at dinner.

Residence Hall Events
Each residence hall holds several events during the academic year that are great for meeting the neighbors in your hall or on your floor. Be on the lookout for details from your RA about these gatherings, which can include fun activities, free food and presentations by campus partners.
Where to Find Event Information
Events Page
Our events page consolidates upcoming events in one location for easy viewing and is regularly updated. All events can be added to your Google, Outlook or iCal calendar via their individual listing page by clicking 'Add to Calendar' under Event Details.

Social Media
Be sure to follow us on social media for the most recent updates on our events. Upcoming events are promoted and recapped on our Instagram and Twitter.

News You Can Use
We know you get a lot of emails, but the first Monday of each month you receive a News You Can Use email from us (housing@austin.utexas.edu) with important updates, upcoming events and announcements. This newsletter puts event dates and times right in your inbox so you don't miss anything.

Roompact
Roompact is a text and email system your RA uses to send you updates about your floor, hall, events and programs. Be sure you're signed up with your updated contact information so RAs can reach you.