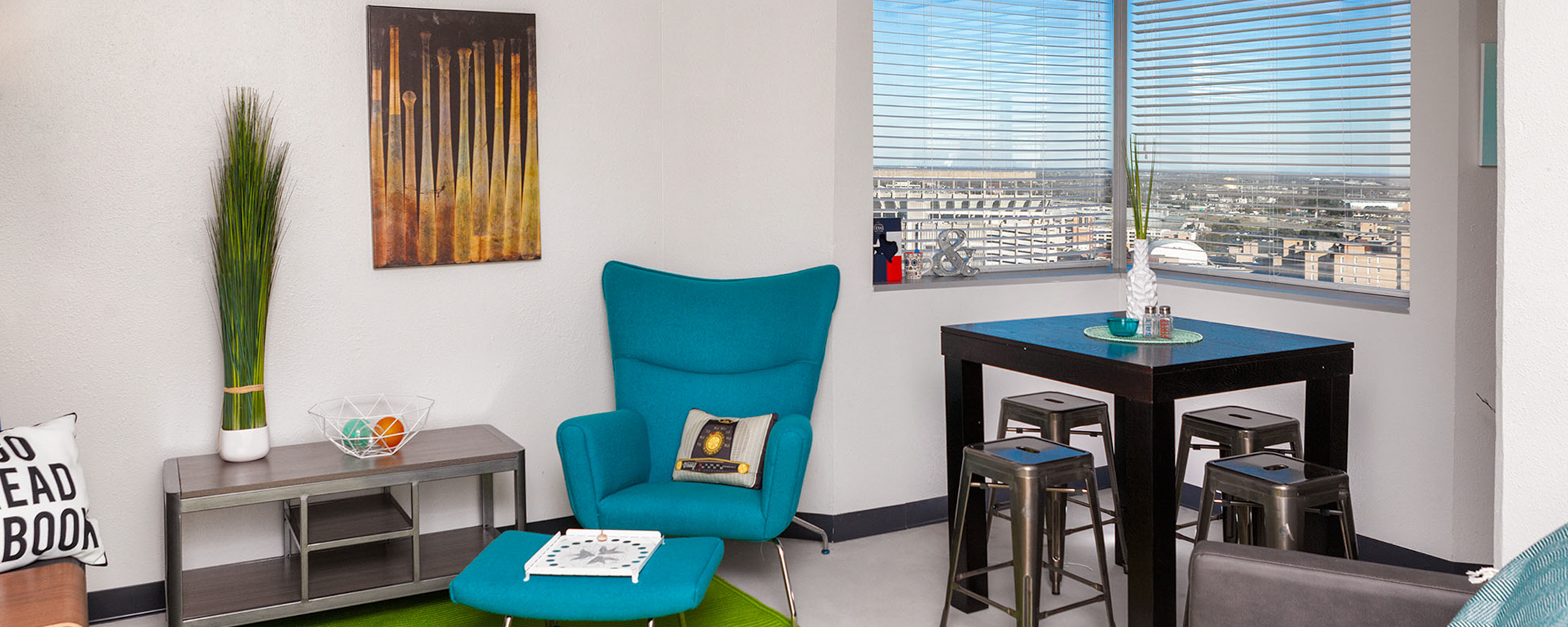 Interested in living on campus in an apartment-style residence? Learn key details about the application and life at Dobie Twenty21. This historic high-rise offers residents a contemporary living experience with on-campus convenience, in an environment designed to help you thrive. Get your Forty Acres journey started and apply now.
FAQs
Application
How does the process work?

Step 1:
Complete your University of Texas at Austin admission application. Once completed, you are eligible to start your housing application, which opens on Aug. 1. You do not have to be admitted to the university to apply for housing.

Step 2:
Submit your Dobie Twenty21 housing application, which will secure you on our waiting list. The sooner you apply for housing, the higher you will be on our waiting list, which betters your chances of getting a contract. There is a $50 non-refundable application fee. Your housing fee is waived if your admission application fee was waived. Please note that the Dobie Twenty21 housing application is its own and entirely separate from applying for our other housing options.

Step 3:
Accept admission to the university. Accept your admission by the May 1 deadline and pay your enrollment deposit. Then you'll be eligible to receive a housing contract.

Step 4:
Receive your housing contract offer. Contracts are emailed on the 1st and 15th of the month, starting March 1. Check for this email regularly, and once received, please note the contract offer expiration date listed in the email. A $300 advance payment must be submitted prior to signing your contract. If your admission application fee was waived, your housing advance payment is deferred. If you are younger than 18, you will need a guarantor who is 18 or older to sign your housing contract.

Missed the deadline to sign your contract? Our housing reservations team can help. Call 512-471-3136 or email our housing team.

Step 5:
Explore your floor plan choices. For more information, see our Dobie Twenty21 location page.

Step 6:
Complete your preferences in the housing portal. Select your preferences for room type and roommates. Use our Roommate Profile Tool to search and pair with a roommate.

Step 7:
Receive your room selection time. You will receive an email in early June with your time slot to choose your room. If you are paired with a roommate, the roommate with the earliest time slot can assign both of you to a room based on available space.

Step 8:
Explore available options and choose your room. General room selection is an ongoing process that takes place throughout the year.

Step 9:
After the room selection process concludes, any student with a room assignment has the option to swap rooms through the room swap page. You can search available rooms and switch through July 31.

Step 10:
Prepare to move to the Forty Acres.
How can I request accessible accommodations?

If you have a medical or disability-related need that impacts where you will live, please indicate the type of accommodation you will require in the space provided on your housing application. You will need to submit a request and documentation to Disability and Access (D&A). They will review the documentation you provide and forward our office the recommendations regarding your housing accommodations. All disability information will be kept confidential within D&A. Your request will not be processed unless you submit the documentation to D&A. Learn more about the complete accommodation request process through D&A.
How much does it cost?

Prices vary based on what room type you have. See our Dobie Twenty21 rates page for comprehensive billing and payment details.
Room Selection
How can I submit my housing preferences?

You can submit your room type preferences once you have submitted your housing contract and satisfied the $300 housing advance payment. You are able to submit preferences for room type, bathroom type and roommate(s).
What is the likelihood that I will be assigned to my preferred housing?

Room assignments are made in housing application date order. Students who submit their application early are more likely to receive their top preferences. Since the academic year housing application opens on August 1, students who wait to apply for housing may not receive their top housing preferences.
What is the likelihood that I will be assigned to my preferred roommate?

Although we try our best to satisfy your roommate choice, roommate preferences are not guaranteed for those offered late contracts and supplemental contract holders.
Can I get a single space?

Dobie Twenty21 features a select number of single spaces. If you request a single space and we are unable to accommodate your request, you will be offered a different type of space.
Do we offer gender-inclusive housing?

The room selection process is administered with rooms labeled by gender and provides available bed spaces based on your gender marker with the university. If you have questions or concerns regarding living options based on your gender marker not matching your gender identity, please contact our housing team so we can work with you on an individual basis.
What if I don't identify as the gender indicated on my UT record?

As a first-time admitted student who is not yet enrolled, you can change your gender marker by submitting a signed request to the Office of Admissions with your EID, date of birth, full name and phone number indicating the gender marker change. The gender choices for this process are F and M. Questions regarding this process can be directed to the Office of Admissions located in Walter Webb Hall by email or calling 512-475-7399.
Payments
When is the first housing bill due? How can I make a payment?

The first housing bill is due by 5 p.m. CDT on September 6. Fall housing bills post in mid-August on the My Housing page. Payments can be made on What I Owe. For more information about payment plan types, payment options and installments, please see our Dobie Twenty21 rates page.
What is eProxy?

An eProxy is someone who has obtained a UT EID and has been granted the authority to access another person's electronic records through the web services offered here at UT. An eProxy is authorized by service (so you may be authorized for one service but not another), and each authorization is valid for up to one year as specified by the granter. Learn more about the eProxy system.
Is my $300 advance room payment deducted from my total residence hall room contract amount?

Yes, it is deducted from your first housing payment installment. The balance owed will be listed on your first statement.
Housing Contract
Does the housing contract include a meal plan?

The meal plan is optional for Dobie Twenty21 residents. Residents can purchase one of our Dobie Twenty21 meal plans which can be enjoyed at our dining halls, restaurants, coffee shops and convenience stores.
Does the housing contract include parking?

Parking is not included in the housing contract. Parking and Transportation Services manages student parking. If you have questions about parking, email Parking and Transportation Services or call them at 512-471-PARK.
What break periods does the housing contract cover?

The housing contract and your monthly installments include fall, winter and spring break periods. Dobie Twenty21 does not close for these break periods, and we do not prorate the installments.
What are the rules in the residence halls?

Read your Residence Hall Manual to learn about the rules and regulations of Dobie Twenty21.
What are the Terms and Conditions for Dobie Twenty21?