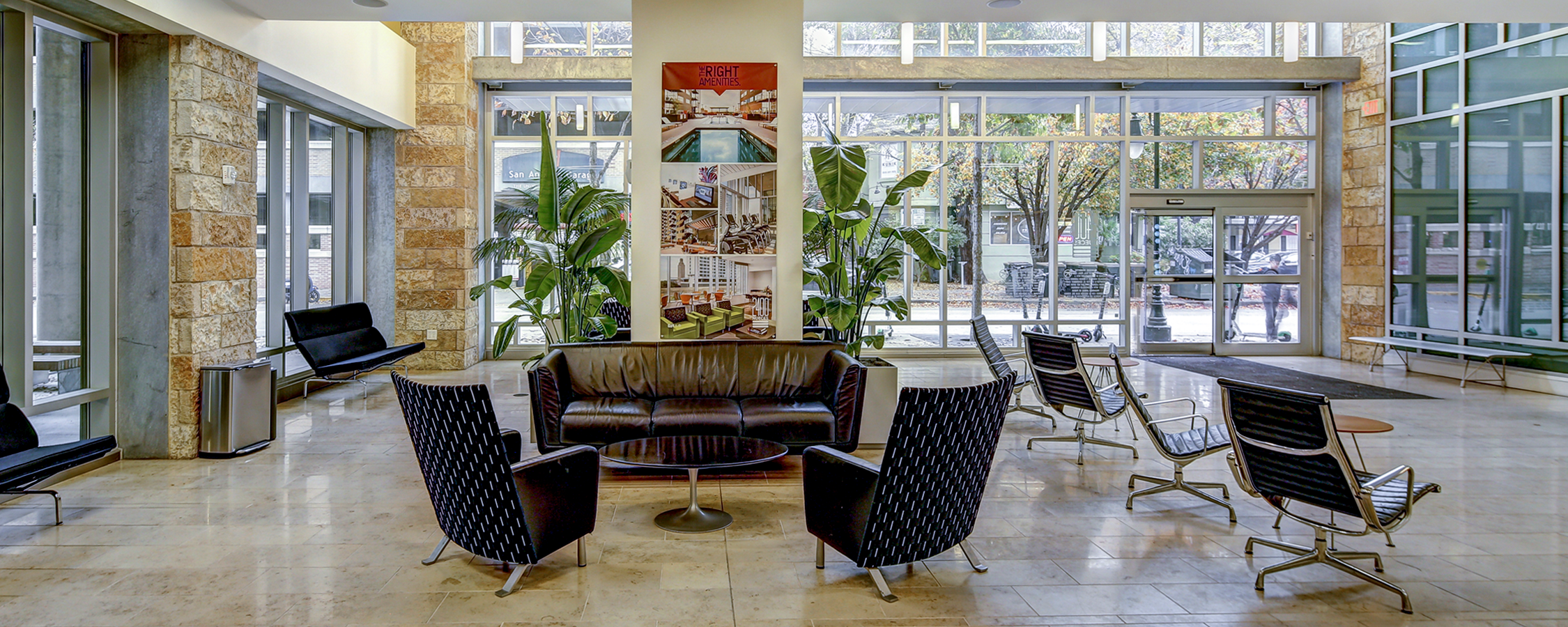 Prepare for the 2400 Nueces checkout process by reading up on essential tasks and dates. These checkout details are for the 2021-22 academic year. Please note that the checkout resident checklist must be completed prior to your departure.
2400 Nueces closes on Sunday, July 31, 2022 at 9 a.m.
Checkout Process Task List
Tasks for All Residents
Submit your release request form

Any resident interested in being released from their 2400 Nueces housing contract before their contract end date must obtain, complete and submit a release request form to housing@austin.utexas.edu. Contract releases will only be granted to residents who are graduating, studying abroad or participating in an internship that requires relocation. If your reason for requesting a contract release differs from those listed, please contact our housing team. Contract release requests must be completed by May 1 at 5 p.m. to avoid a cancellation penalty. You will be able to indicate your checkout date on the form, and your billing end date will be adjusted based on your checkout date.
Read the closing newsletter

Ensure that you are aware of the tasks for a proper checkout by reading the 2400 Nueces closing procedure newsletter provided by staff. Please reach out to a resident assistant or the front desk with any questions.
Clean your room and bathroom

Checking out of 2400 Nueces with your room and bathroom left messy will incur respective fines. The cleaning fee for a messy room is $50 per person. The fee for a messy bathroom is $120, to be divided among roommates. Damages or missing room items will cost the price of repair, replacement and/or labor.
Clean your kitchen and common spaces

Departing 2400 Nueces with your kitchen and common spaces left messy will incur respective fines. To avoid such charges, ensure that you thoroughly clean the kitchen counters, refrigerator, dishwasher, stovetop/oven and microwave prior to checkout.
Take belongings out of your apartment

Be sure to remove all your belongings from your bed space, common area and balcony (if applicable).

If you are resident not returning, pack up and move all of your belongings out of your apartment.

If you are living at 2400 Nueces again, once you check out you cannot return to your room until the building reopens.
Complete the checkout resident checklist

All residents are required to complete this essential tasks checklist prior to their departure from 2400 Nueces.
Pick up a checkout envelope and return your keys

Pick up a checkout envelope from the 2400 Nueces front desk. Return your bedroom key in the envelope to the front desk staff by 9 a.m. on closing day. A $75 fine is incurred for lost keys or keys not returned by the closing day deadline.
Additional Details
Update your mailing address

To change your mailing address, log in to UT Direct, modify your address and then select "Update This Address." Please be sure to check your mailbox before departing campus; once 2400 Nueces closes at 9 a.m. on closing day, you may no longer pick up mail from the hall. After closing day and for a period of 30 days, only first-class mail will be forwarded to your new address. Also make sure to update your default address with external companies that may continue to ship mail to you (i.e., magazine subscriptions, Amazon packages, etc.).
Loading zone passes

1-hour loading zone passes or validation of garage parking (for select days) will be available at the 2400 Nueces front desk on Monday, July 25.* A limited number of carts will be available for check out. Make your move easier by bringing your own cart.

*One pass or validation per resident.
Closing day

2400 Nueces closes on Sunday, July 31 at 9 a.m. There will be a fee, starting at $50, if you do not vacate by 9 a.m.
Bike storage

Make sure to remove your bicycle from the 2400 Nueces storage room prior to your departure.
Ensure that bed spaces remain vacant

Once a bed space is vacated in your apartment, 2400 Nueces staff will come check within 72 hours that the space has been properly vacated. These apartment visits generally happen on two occasions: when a resident has recently moved out of a room within your apartment space or because items obstructed our staff's ability to check a vacated bed space during their inspection.

Room inspections are very brief and only to ensure that a former resident has removed everything from their room and bathroom. You are not required to be present for the inspection. Once inspections are completed, please note that our building services team will enter the apartment within a week to clean the space and fix any damages found in the inspection.

If you have any questions, please direct them to the 2400 Nueces team or call 512-232-7517.