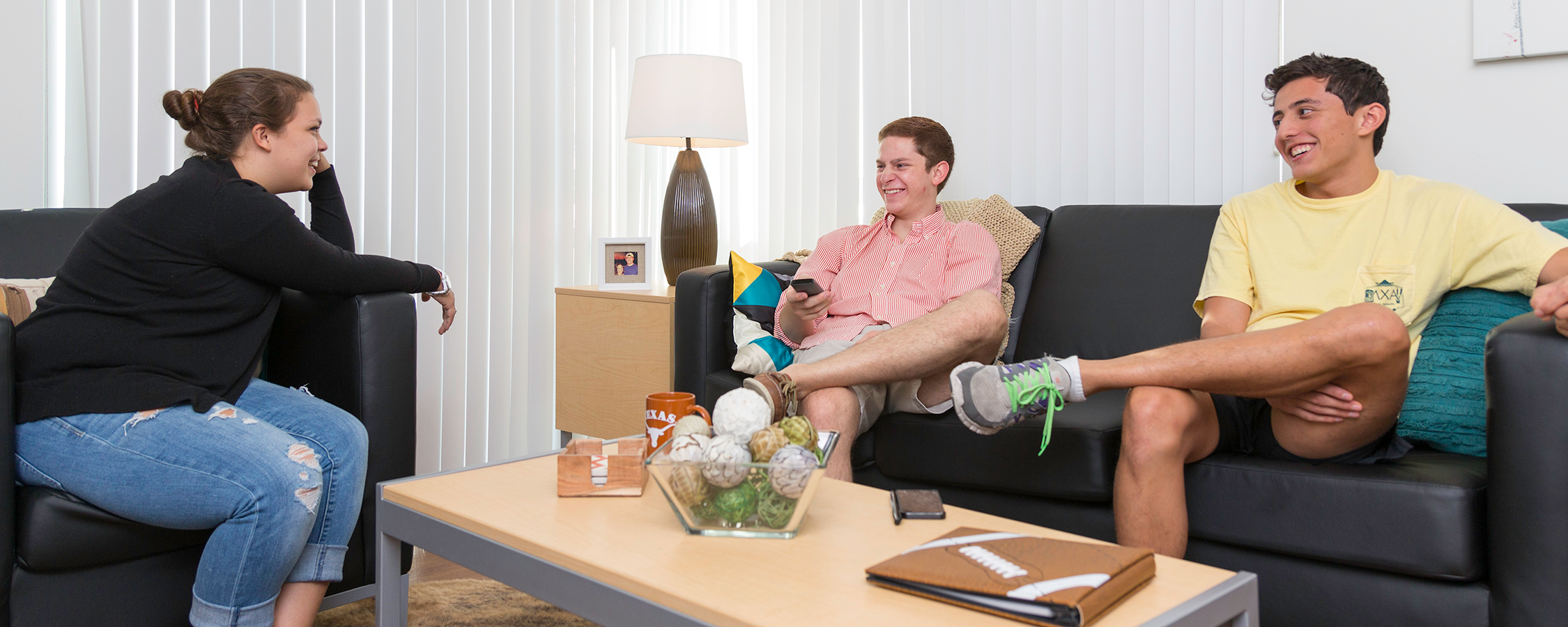 Current Rates
2400 Nueces Rates for 2021-22

The following rates are paid in 12 equal monthly installments and includes cost of room, all utilities, digital cable, streaming television and internet access. See the 2021 - 2022 Terms and Conditions (pdf).

Apartment Type

2021-2022 Installment Rate

Furnished Spaces:

Studio

$1,275

2 Bedroom / 2 Bathroom

$1,250

per person

2 Bedroom / 2 Bathroom (Double Occupancy Bedroom)

$800

per person

3 Bedroom / 3 Bathroom

$1,100

per person

4 Bedroom / 4 Bathroom

$975

per person

 

Unfurnished Spaces:

1 Bedroom / 1 Bathroom

$1,575

1 Bedroom / 1 Bathroom (Double Occupancy Bedroom)

$952

per person

2 Bedroom / 2 Bathroom

$1,225

per person

2 Bedroom / 2 Bathroom (Double Occupancy Bedroom)

$785

per person

 

Per Person Premium Amenity Rates

 

Premium Options

2021-2022 Installment Rate

Attached Bathroom (connected to bedroom)

$

25

Wraparound Balcony

$

25

6th Floor Courtyard Balcony

$

25

6th Floor Deluxe Balcony

$

50
Past Rates
2400 Nueces Rates for 2020-21

The following rates are paid in 12 equal monthly installments and includes cost of room, all utilities, digital cable, streaming television and internet access. See the 2020 - 2021 Terms and Conditions (pdf).

Apartment Type

2020-2021 Installment Rate

Furnished Spaces:

Studio

$1,159

2 Bedroom / 2 Bathroom

$1,324

per person

2 Bedroom / 2 Bathroom (Double Occupancy Bedroom)

$700

per person

3 Bedroom / 3 Bathroom

$1,179

per person

4 Bedroom / 4 Bathroom

$1,231

per person

 

Unfurnished Spaces:

1 Bedroom / 1 Bathroom

$1,684

1 Bedroom / 1 Bathroom (Double Occupancy Bedroom)

$937

per person

2 Bedroom / 2 Bathroom

$1,298

per person

2 Bedroom / 2 Bathroom (Double Occupancy Bedroom)

$685

per person

 

Per Person Premium Amenity Rates

 

Premium Options

2020-2021 Installment Rate

Attached Bathroom (connected to bedroom)

$

25

Standard Balcony

$

50

Premium View Balcony

$

75

Wraparound Balcony

$

100

6th Floor Courtyard Balcony

$

150

6th Floor Deluxe Balcony

$

250
Billing and Payment Info
Housing Payment for the Contract Period 2021-22

Once you are offered a contract with 2400 Nueces, you will need to provide a $300 advance payment in order to sign your contract. Be sure to satisfy this advance payment, as well as sign and return your contract, by the contract offer expiration date to secure your occupancy.

Payment across the current contract period (August 1, 2021 – July 31, 2022) is divided into 12 equal installments. All installments are due on the first of the month, beginning August 1. We will send an email reminder to you a few days before payment is due. Financial aid is applied before classes start. Payments may be submitted electronically through the UT Direct system, delivered in person to the Cashier's Office, or mailed to us directly via public (USPS) or private (UPS, FedEx) carriers. All checks must be made payable to the University of Texas at Austin and include your name and EID.

As with tuition bills, parents and guardians can be authorized to view and pay a student housing bill with eProxy.
View Your Payment Plan

Go to View Your Payment Plan. From this page you will be able to see billing options and transaction details. If you want to print your bill for your records, look for the "View a printable version of your bill" button.
Late Fees

Payment installments are considered late 5 days after the payment due date. The August installment, for instance, will be considered late after the fifth of September. If payment is received after the fifth of the month, or if it is less than the full amount due, a late fee of $50 will be charged to your account, and a bar may be placed against your registration, degree conferment and official transcripts.
Pay By Mail

If your payment is being mailed, choose the correct mailing address based on the carrier:

U.S. Postal Service (USPS):
University Housing and Dining
PO Box 7666
Austin, Texas 78713

UPS/FedEx/other private carriers:
University Housing and Dining
200 West Dean Keeton Street
Austin, Texas 78712