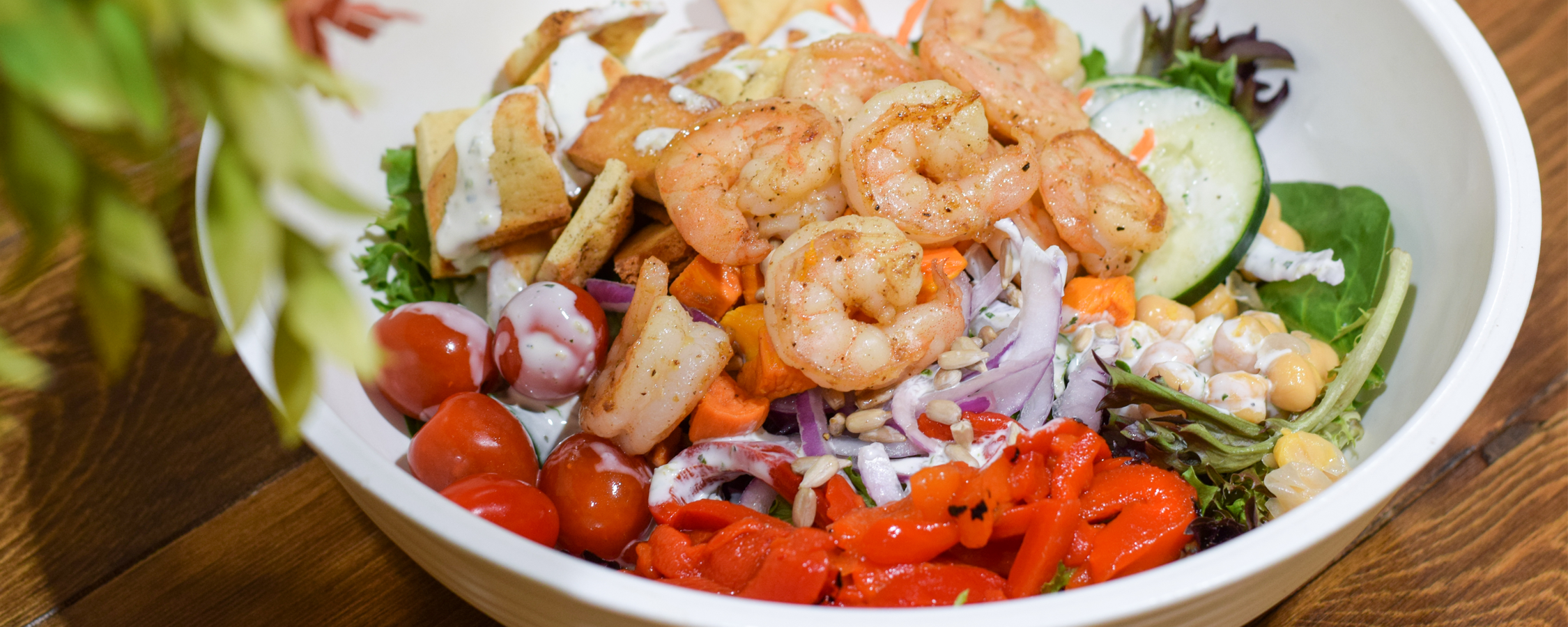 Our registered dietitian strives to cultivate an informed and inclusive campus dining community through everything they do, from communicating ingredient and food allergen information to guests to creating educational opportunities to learn about nutrition and healthy cooking.

Eat Wise
Eating right in college doesn't have to be complicated—focus on variety, amount and nutrition. You can make sustainable positive changes to your dietary habits by these following simple strategies.
Making time for breakfast.

Eating breakfast wakes up your metabolism and provides the fuel needed to start your day.
Aim to eat breakfast within two hours of waking up.
Include protein, fiber-rich carbohydrates and heart-healthy fats in your breakfast choices.
Being prepared.

Keep healthy pre-portioned snacks on hand to avoid making poor food choices when hunger strikes.
If you're in a pinch, look for healthy snacks with the Lite Bites logo in campus vending machines or in UHD campus markets.
Eating mindfully.

Honor your hunger to keep your body adequately supplied with energy.
Take your time when eating; it can take 15-20 minutes for fullness signals to reach the brain.
The Mindful Eating Program offered by University Health Services can help you become an Intuitive Eater!

Lite Bites Healthy Dining
Lite Bites are part of an initiative to make better-for-you options easily identifiable at The University of Texas at Austin. All Lite Bites healthy dining offerings meet specific nutrition criteria based on the 2015-2020 Dietary Guidelines for Americans.
To learn more about healthy eating patterns, including quantitative recommendations for added sugars, saturated fats and sodium, visit: https://health.gov/dietaryguidelines. Look for our Lite Bites logo on the online menu and digital menu boards.

Telehealth Nutrition Consultations
As part of our commitment to cultivate an informed and inclusive campus dining community, University Housing and Dining offers free, basic nutrition consultations via Zoom and phone for current residents with our expert registered dietitian (RD).
Our dietitian can
Answer general nutrition-related questions.
Share recommendations on how to make healthy choices on campus.
Provide guidance for dining on campus with specific dietary considerations, including food allergies and intolerances, religious diets, and lifestyle diets.
Recommend campus resources and provide referrals, as needed.
Please email dietitian@austin.utexas.edu to learn more and to schedule an appointment.

Healthy Snacking
Our Lite Bites logo can be found on better-for-you snack choices in all UHD retail dining locations including Jester City Market and Kin's Market, as well as on vending machines across campus. All Lite Bites items meet predetermined nutrition criteria for healthy snack options. See more...
Calories:

Not more than 250 calories per individual package for snack items.
Fat:

Not more than 35% of calories from fat

With the exception of nuts and seeds, nut butters, eggs, non-fried vegetables and cheese packaged for individual sale.
Snack mixes must meet the 35% rule.
Saturated Fat:

Not more than 10% of calories from saturated fat (excluding eggs and cheese packaged for individual sale).
Sugar:

Not more than 35% total weight from sugar and caloric sweeteners, with the exception of fruits and vegetables that have not been processed with added sweeteners.
Sodium:

Items shall not contain more than 360 mg of sodium per serving.
You can reference the Wellness Network's Healthy Vending Map to locate snack vending machines on campus that contain better-for-you choices.

Food Safety
University Housing and Dining takes strict safety precautions in the preparation and service of your meals, but with an anticipated increase in meals being eaten outside of the dining halls this year, we encourage you to take the necessary steps to continue to keep your meals safe from potential foodborne illness.
Food Safety Tips:

Keep HOT foods HOT (above 140 °F).
Keep COLD foods COLD (below 40 °F).
Never leave perishable foods out of refrigeration for more than 2 hours. If the food is exposed to temperatures above 90 °F, refrigerate it within 1 hour.
Discard any food left out at room temperature for more than 2 hours.
Place any uneaten food into shallow containers and immediately put in the refrigerator or freezer.
Leftovers can be stored in the refrigerator for up to 3-4 days, but it is recommended to discard them after that timeframe.
Reheat leftovers to 165 °F, as measured with a food thermometer, before eating.
When reheating, remember to stir the food in the middle of heating to allow the food to heat more evenly all the way through.
If you do not eat all of the reheated food, discard any remaining leftovers and do not re-refrigerate.