Published:
November 14, 2022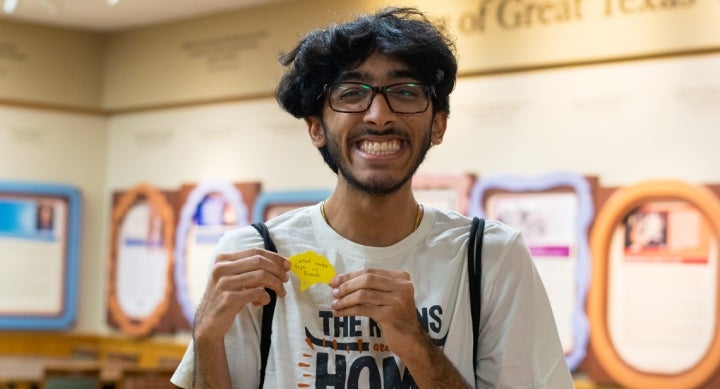 There's a lot to be thankful for on the Forty Acres. Our list always starts with you: from our student and professional staff members to all the Longhorns who live and dine with us, we are so grateful to have you as part of our campus family.
To hear from our campus community, we thought it best to go straight to the source. In the spirit of giving thanks, Dr. Brandon Jones, our director of student learning, development and engagement, went out to Speedway to ask Longhorns what they're thankful for this year. Check out their answers in our video below.

Before heading home for fall break, you'll also have the opportunity to share your gratitude – and for a good cause. As part of an annual initiative, we are collecting thankful messages on paper leaves to add to 'Give Thanks' trees posted outside our dining halls the week of Friendsgiving Dinner. For each submission of thanks, we will make a donation on your behalf to your choice of UT Outpost or Orange Santa, two university organizations that provide for Longhorns in need.
Look for our team tabling at J2 and Kins Dining during mealtimes the week of Nov. 14. Stop by with your friends to help our trees flourish – the more leaf-filled and lush, the greater impact we can make for our community of fellow Longhorns.