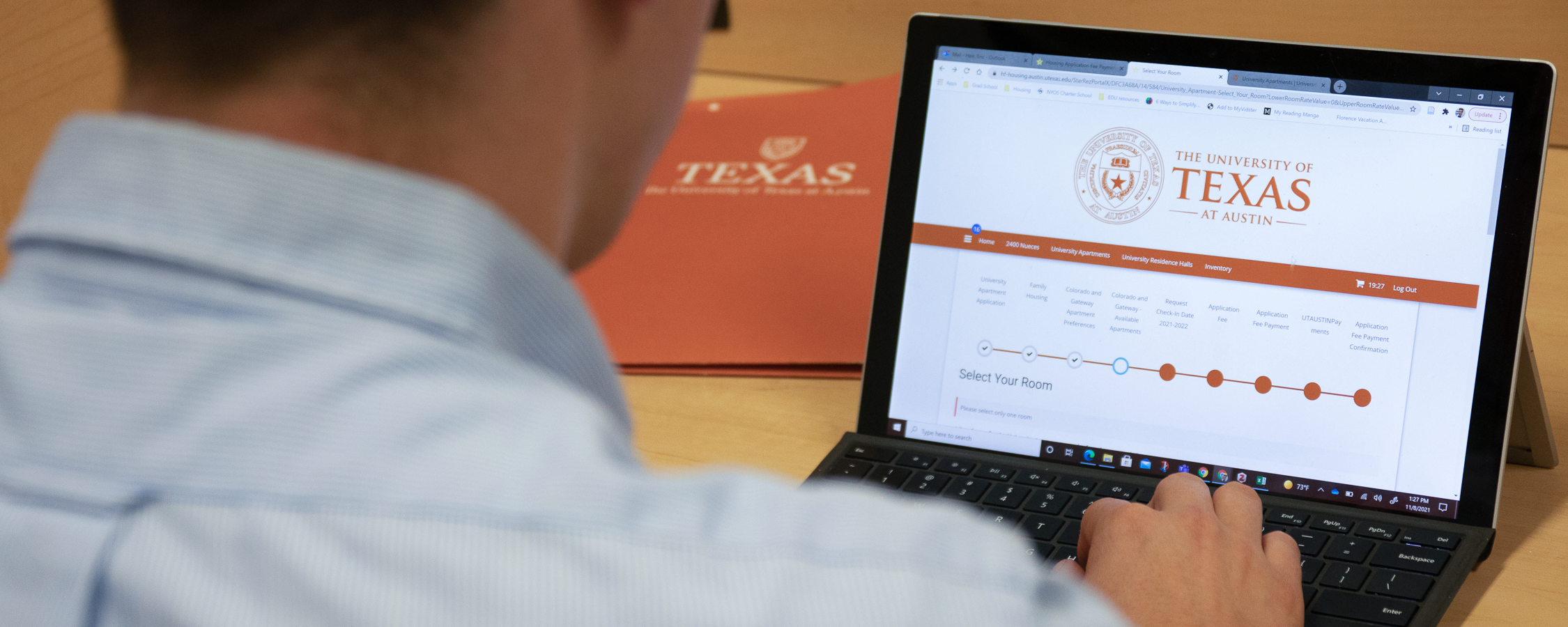 The University Apartments are reserved for families, graduate students and undergraduates with at least 30 credit hours in good standing with the university. Applications for housing are separate from the university application. Acceptance as a student is acknowledged by the Office of Admissions and is a prerequisite to apply for housing. Read about the application process, University Apartments contract details and apply to live here.
FAQs
Application Process
Who is eligible to live at the University Apartments?

The apartments are reserved for families, graduate students and undergraduates with at least 30 credit hours in good standing with the university. Postdocs and visiting scholars are not eligible.

Applicants must be admitted to the university at the time of application and must meet the minimum enrollment hours requirement:

Six (6) semester hours for dissertation
Nine (9) semester hours for graduate and law students
Twelve (12) semester hours for undergraduate students

Enrollment is not required through the summer semester; however, you must be admitted to the university and be working towards a degree.
How does the process work?

Step 1: Log into the application portal. Select University Apartments and click "APPLY."

Step 2: Indicate eligibility/interest for family housing and provide apartment preferences.

Step 3: Complete Roommate Profile (Colorado [COL]/Gateway [GAT] only). Students who want to live together can each select a room in a fully empty apartment when applying.

Step 4: View available apartments in the application portal and check our rates.

Step 5A: If your preferred room type is not available, you are placed on an interest list and will be notified when that room type becomes available. Visit the application portal for updates on apartment availability.

Step 5B: If preferred room type is available, select the room in the application portal, pay the $50 application fee, select a move-in date (within two weeks of the date that the apartment is available) and submit your application. The application will be canceled if not submitted within two business days.

Step 6: We will offer a contract via email within three business days of receiving a completed application. Pay the $500 deposit and sign the online contract in the application portal. The contract will be canceled if not completed within five business days. Please note the move-in date listed on your contract, which cannot be changed once your contract and related fees have been submitted.

Step 7: Submit family member information if living in Brackenridge [BRK].

Step 8: If you want a copy of your signed contract, email the University Apartments team to request a Verification Letter.
Which apartment complex is right for me?

Explore our three complexes through 3D tours, view current rates and check out our amenities on the apartment locations page.
How can I request accessible accommodations?

If you have a medical or disability-related need that impacts where you will live, please indicate the type of accommodation you will require in the space provided on your housing application. You will need to submit a request and documentation to Disability and Access (D&A). They will review the documentation you provide and forward our office the recommendations regarding your housing accommodations. All disability information will be kept confidential within D&A. Your request will not be processed unless you submit the documentation to D&A. Learn more about the complete accommodation request process through D&A.
How far in advance can I reserve an apartment?

We list apartments that are available over the next two months.
Logistics and Policies
Are the apartments furnished?

Each apartment has a stove and refrigerator only.
How many people can live in an apartment?

Occupancy limits for Brackenridge (family housing):

One-bedroom apartment, two–three occupants
Two-bedroom apartment, two–five occupants
Three-bedroom apartment, four–seven occupants

Occupancy limits for Colorado and Gateway (single occupancy housing):

One-bedroom apartment, maximum of one UT Austin student contract holder
Two-bedroom apartment, maximum of two UT Austin student contract holders
Guests will not be permitted to reside in or visit Colorado or Gateway units beyond 72 hours
Can family visit beyond the 72-hour guest limit?

Residents will have the option of submitting a "Family Member Extended Visit Request Form" to Apartments staff. A family member can be approved to visit with the contract holder between 3-21 days.
Are pets allowed?

No, pets are not allowed. Only service animals approved in advance by Disability and Access (D&A) can live in University Apartments.
Is subletting allowed?

No, subletting is prohibited.
Contract Details
What does the monthly rate include?

The monthly rate for the three University Apartments includes room, all utilities (electricity, gas and water), laundry, internet and trash service. See our University Apartments rates page for comprehensive information.
How long is the contract period?

Leases begin and end on the dates listed in the Contract Terms and Conditions. There is a minimum length stay of one year. Contract renewal for the following year takes place during the spring term, during which renewal instructions will be sent to current residents wishing to remain in their assigned apartment. The new term will have new rates. New rates are subject to change and will be available when the renewal process begins.
What is the minimum stay requirement?

Completion of a 12-month stay is required to be eligible to vacate without penalty, after proper notice. Vacating after less than 12 months occupancy will result in a re-letting fee of 85% of the remaining month's charges or until the unit is re-leased.
What is the maximum time I can stay at University Apartments as an eligible student?

Term limits are a maximum of five years. Current contract holders can request an extension by emailing the University Apartments office with an attached letter from the college with proof of progress toward degree completion and expected graduation date.
When I graduate, can my apartment contract be transferred to another member of my household?

No, when you graduate or leave the university, all members of your household must vacate at the same time that you vacate. There is no provision to transfer a contract into another member's name, regardless of relationship. If other members wish to have a contract in their name, they will be required to apply for an apartment and wait for an apartment offer.
How are family members defined?

"Family members" are defined as individuals who are related to the contract holder by marriage, dependency or some other form of recognized familial relationship. The phrase "familial relationship" is inclusive and captures a broader definition of how people view their families. Familial relationships that are eligible for family housing at University Apartments under this policy include but are not limited to:

Marriage
Common law marriage
Civil union
Domestic partnership
Informal marriage
Fiancée
Dependent minor
Parent
Sibling

 
I already live at University Apartments and my family situation is changing. What do I do?

Complete a transfer request form and submit it to our office. Transfers are granted based on availability.
What are the Terms and Conditions for the University Apartments?

See the 2023-24 Terms and Conditions.